WE ARE
We are a group of dedicated parents, guardians, teachers, and staff that are active in the further enrichment of our students experiences in grades 2–5 at Fairview Elementary school.
OUR GOAL
Our goal is to help facilitate the ever improving education and social environment at Fairview Elementary. We do this by connecting parents, administrators, and teachers to our students through different social events & programs that offer creative opportunities for personal growth outside of the classroom.
HOW CAN I HELP?
There are three basic ways that you can give to further the goals of the Fairview PTO.
The Fairview PTO is proud to announce that we are continuing our Offering of the DirectorySpot app for all of our Fairview community! This year we are asking for a minimum donation of five dollars to be a part of the Fairview Parent Teacher Organization. Your donation gives you access to the Fairview Directory list of teachers, students, and their parents, and keeps you in the loop by sending you notifications of special events and important dates for the Fairview school year.
You will also receive monthly newsletters from the PTO that will inform you of the interesting people and events at Fairview, as well as our schedule of PTO sponsored special events for our student body. Our minimum ask is for a five dollar donation, but a $20 donation will get you an awesome pair of vintage Fairview Falcon Blue Crew Socks.


A few examples of our scheduled social activities are:
The Second Grade Park Playdate
The Halloween Boo Bash
The Fun Fair
Family Hoops
The Book Fair
Math Night
The Science Fair
Special Lunch
The Plant Sale
Special activities for 5th Graders
Staff Appreciation Week
Falcon Spirit/ Motivational Speaker/ Published Author Assemblies
Dine and Share
---

Some examples of our donation programs are:
The New Projector in our Falcon Gym
The Clean Water Dispenser installation in Fairview Elementary

The Fairview Falcons Welcome Rug in the front foyer
This year's Fairview Falcons take home folder
This year's Falcon face covering for all students
Hand Sanitizer for all students
Birthday Books for all students
The social activities and donation programs that we offer to Fairview are free to all of our students, and are paid for by our fundraising programs, our family membership donations, and the time that is invested by our entire Fairview community.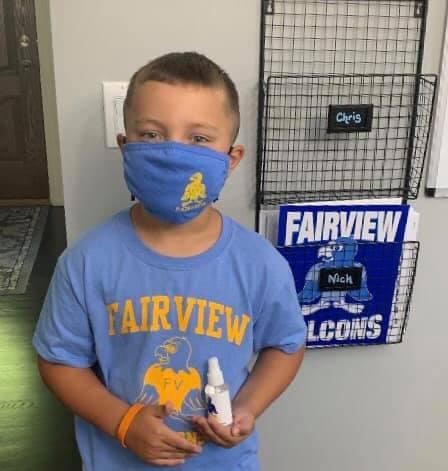 ---

Here are a few examples of our fundraising programs that we offer to our Fairview Community:
The Back to School Picnic – Falcon Spirit Wear – Student Supply Packs – The Falcon Jump
These programs do bring in some revenue to our PTO that we use to fund our different activities and programs, but the majority of our funding comes from the generous contributions of time and money from our Fairview Community.
---
How Can I Help? Well, I'm Glad you asked:
There are three basic ways that you can give to further the goals of the Fairview PTO.
1) You can visit the Volunteer section on top, or click here, and volunteer your time.
OR
2) You can make a tax-free monetary donation by visiting the Membership section on top, or click here to become a Member!
OR
3) You can choose to support our students by simply coming out and taking part in any of our activities or events!
Whether you wish to donate time, money, or participation, please know that we greatly appreciate everyone who helps make our Fairview Community a safe and happy environment for our children.
Finally, we want to acknowledge the tremendous efforts taken by our devoted teachers and staff members in helping form the young minds of our children. We do this for our children, but we also do this out of the gratitude we feel for you all, and the love that you give. You are the backbone of Fairview Elementary school, and the time and patience that you give reflects in the impressions you make on your students. THANK YOU!!!
Thank you for visiting the Fairview PTO website, and please contact us at [email protected] with any questions or concerns. GO Falcons!